Reading Time —
7
minutes
---
Tis the season for holiday shopping. (Already??) If you're at a loss for what to get the confectionary aficionados in your life, let me help you out with my gift guide for cake decorators, bakers, and sugar artists.
Except for my mom, who started shopping like 3 months ago.
But for the rest of us, now is the time! While writing up my wishlist, I realized lots of these gifts would be great for other cake decorators, Sugar Flower artists, and cake & flower enthusiasts like me!
Some of them I actually received in the past, and some of them I'm crossing my fingers for this year! ??
Some of the links on this page are affiliate links. That means, I get a small commission if you purchase through this link. However I make it a point to only share tools and resources I truly love and use. 
A note on the pricing: I looked up all these prices in October 2022. As far as I know, the prices are accurate as of publishing, but we all know prices can fluctuate especially with all the sales happening.
Jacqueline Butler's Modern Sugar Flowers
I'm a mostly self-taught sugar artist, and these books were instrumental in helping me develop my skills.
Plus, they're gorgeous.
You could get away with just buying volume 1, but if you really want to surprise and delight, get volume 2, too! I'm personally obsessed with the butterfly ranunculus and bougainvillea tutorials.
Precious Pansy Jewelry Collection
from Kate Spade
These earrings are just the sweetest. I'm a sucker for anything floral, so if your cake-decorating sweetheart is anything like me, you can't go wrong with any of the jewelry from this collection.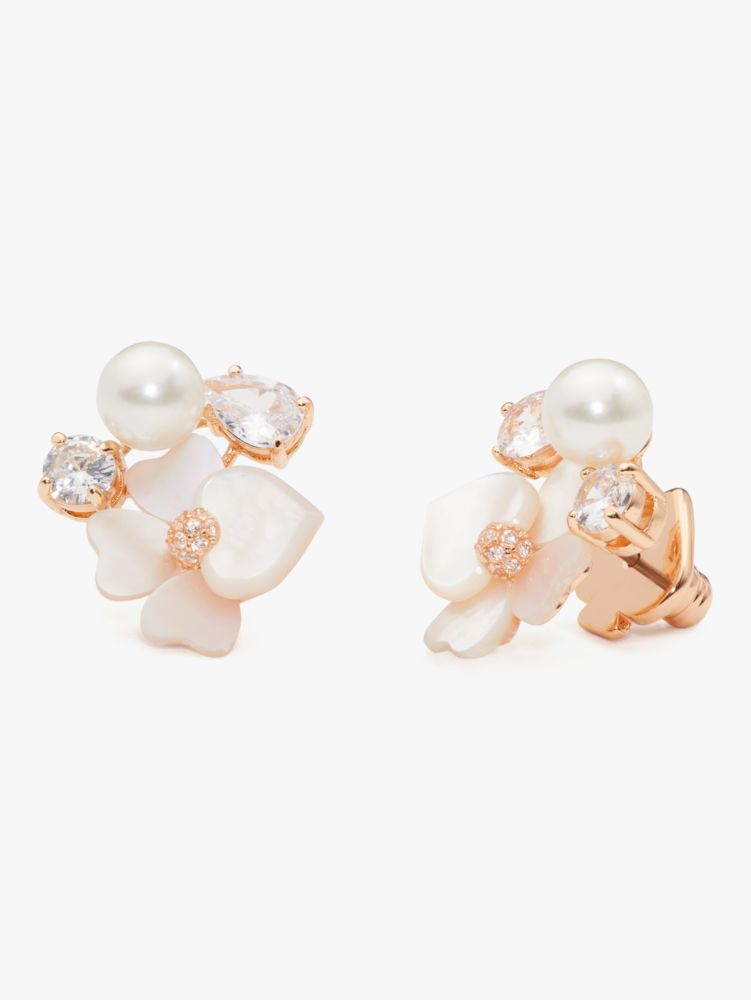 Water Brushes
This is one of those things I always think I should buy, but since I don't "need" it, I never did. Until I was writing this list, then I grabbed a set on Amazon and holy wow, they are convenient!
Perfect for gluing sugar flowers together, and putting fondant decor on the side of the cake, and I'm pretty sure these would make some sweet watercolor sugar cookie designs if you had some food coloring on hand.
Chef's Torch
Robert Haynes taught me this one: You heat up the end of a wire to attach it to gumpaste quickly. You have to be careful, we're playing with fire after all. But bonus: it smells like marshmallows.
And yes, I definitely got one of these as a gift a few years ago ☺️
Somerset Sheeter, 10"
Tell them Kelsie from Kelsie Cakes sent you!! (I don't know if that means anything, but they've been wonderful to work with. Shout out to Felicia!)
This "little wonder" is sooo good for rolling out gumpaste and fondant, and sugar cookie dough… and the size is just perfect to tuck away into a corner.
Cake Safe Spray Booth
Another splurge that I've got on my own wishlist! I've used Cake Safe products in the past, and their quality is the best. Plus, it's a small family-owned business. The owners are always so kind and helpful when I pepper them with a million questions!
Anything from Shoe Bakery
No gift guide for cake decorators is complete without Shoe Bakery on the list.
My current obsession? These sprinkle heels.
Shoe Bakery is a small business run out of Orlando, FL which I have been googly-eying ever since I first saw them at a cake show in 2015.
You can't go wrong with their classic ice cream flats (which I own, obvs), and the wallets and bags come in clutch too (pun intended).
And while you're browsing, get a gift for the tiny bakers out there, cuz they totally sell baby shoes too!
Handsoap and lotion from Aesop
This is a splurge, but it's worth it for those cracked and chapped hands. With all the hand washing we bakers have to do, our skin is not always happy with us. For the cake decorator who doesn't want to splurge on herself but who totally deserves to, Aesop is the way to go.
Give your baker some love with this luxury soap & lotion set.
A wireless(?!?!) projector
Way back in the day, I bought a pico projector for cookie decorating, and it blew. my. mind. I haven't looked at the newer models in years, but now that I'm checking them out on Amazon, I'm even more blown away by this model. It's wireless (what?!) and the trackpad buttons look way easier to use.
I love that there are no giant buttons on the sides that you could accidentally press when you're setting it up on your tripod.
Canvas Light/Phone Stand
This light/phone stand combo is one of those practical but also beautiful things that you could live without, until you get one and realize how much you use it.
I use my Canvas as a light on my worktable, which totally reminds me of when my grandma would sew and turn on this 1000-watt lamp next to her sewing machine.
Canvas is definitely more modern than that. Especially with the MagSafe phone mount, which I love.
These mixing spatulas.
I saw a friend of mine had them in her bakery, and I immediately fell in love. They're on my wish list, and I cannot wait to break them out. That is to say, I can't wait to scoop out an almost-empty peanut butter jar with them!
(Is that weird?)
Rifle Paper Co Keds
Does it get any better than a classic combo of Keds with the always-trending Rifle Paper Co?! (Seriously, how do they keep topping themselves?!)
I'm a fan of these floral beauties, for example, but there's a pair for every style, srsly.
Replica Surfaces
Do you see this gorgeous marbled surface that my Sugar Flowers are delicately arranged upon?! That's not marble, my friends, but the marble backdrop from Replica Surfaces. *Swoons*
They're pricey but more importantly, you get what you pay for. And what you pay for is a hell of a lot of quality and longevity and versatility. You can't go wrong with any of them, which is why I'm having such a hard time deciding which backdrop to get next…
A Sugar Flowers by Kelsie Cakes Gift Card
Of course, on my very own gift guide for cake decorators, I couldn't leave out a gift card to my retail shop! From cake decorating merch to tools & supplies and (obviously) Sugar Flowers, this gift card will cover all your bases!
Gift cards start at $10. If you need a custom amount that is not shown on the website, please contact me so I can set something up for you.
Rose Gold Icing Spatulas
Definitely not a "need to have" but a "nice to have." In other words, they make a great gift because they're more fun than practical (but still a lil' practical). Did I mention that these Cakes by Courtney spatulas are also beautiful?
Bonus! Check out the rose gold cake combs for more glam ?
LEGO Flowers
For the little bakers out there…
And there you have it! Sugar Flowers by Kelsie Cakes' Gift Guide for Cake Decorators, 2022 version.
Anything I missed? Send me a DM on Instagram or add your comment below!
---
For more of my favorite tools and supplies, download this list of my can't-live-without resources.
If you liked this blog post, check out my downloadable free guide of
my favorite sugar flower + cake decorating toolkit
---
Quick note → Some of the links on this page are affiliate links. That means I get a small commission if you purchase through this link. However, I make it a point to only share tools and resources I truly love and use.