Reading Time —
4
minutes
---
How do Sugar Flowers fare in the mail since they're so delicate?
You're probably thinking: how could I possibly order something as fragile as a flower made out of sugar on the internet?? Is there a method for shipping Sugar Flowers that actually works?
→ Will they hold up during delivery?
→ Will they break or melt in transit?
→ Will they arrive on time if I order at the last minute?
→ Will they arrive on time if I'm not local?
These are fair questions, especially if you're used to dealing with Amazon's customer service and questionable packaging choices.
My customer service > Amazon's customer service. Just sayin'
But stunningly beautiful and intricate Sugar Flowers can be in your future!
I lovingly and carefully package all of my Sugar Flowers so your cake can look as breathtaking and incredible as it tastes. (Seriously, for custom orders, I've been known to spend an hour wrapping up flowers and strategically Tetris-ing them into boxes for optimum security.)
Don't settle for less-than-amazing cake decorations just because your past suppliers let you down.
How do I do it?
I worked with a professional engineer (aka my husband) to determine how best to package Sugar Flowers. We focused on aborbing the shocks and vibrations that occur during regular Postal Service transit, and here's what we found worked best:
I wrap each flower individually in soft padding: foam, cotton, tissue paper, bubble wrap— whatever material works best for the particular flower I'm shipping is what I'll use.
After I wrap up each flower and put them in a box, I put that box inside another box with— you guessed it— more padding.
Throw on a couple of "FRAGILE HANDLE WITH CARE" stickers, and we're good to go!
I've shipped over 4,000 packages in the last seven years (that sounds absolutely nuts when I sit back to think about it). The most I ever sent out in one day was 12 boxes. That definitely took a few trips from my car to the post office…
But with all that experience under my belt, I feel preeetty confident I know how to safely ship Sugar Flowers so they arrive at your doorstep just as beautiful as when they left my studio.
Confession time: I received the first (and only) 1-star review because the Open Roses I shipped to California arrived damaged.
As upset as that review made me, the part that bothered me most was that the customer didn't reach out to me for a replacement. So ultimately, I couldn't follow up to ensure her cake was as beautiful as she'd envisioned when choosing me as her Sugar Flower provider.
The moral of the story is this: I go to great lengths to ensure your cake is gorgeous. I've got your back if, for some reason, your flowers experience less-than-idea travel conditions during transit.
But they're still fragile, right?
Unfortunately, I can't control what happens between my mailbox and yours. ?‍? (like boxes left in the snow, packages shoved into lockers that are too small, or those cringey videos of delivery drivers throwing parcels at doors).
So I control what I can. I put as much love and attention into my packaging as I do into the flowers.
Okay but… what if something does happen?
If you're still worried about your flowers arriving safely, I do have one more ace up my sleeve:
Every package has insurance and includes the Delicate-but-Durable shipping guarantee. In the unlikely event that your flowers suffer damage during shipping, you can contact me and file a claim. First, send photos of the broken flower and packaging. Then we'll work together to determine if you need a repair, replacement, or refund.
I even have a quick tip for fixing one or two broken petals on wired Flowers like Open Roses or Peonies. It'll take you .2 seconds, and no one will ever know there was a chipped petal.
Read the blog post & learn how to fix a broken Open Rose Sugar Flower.
Do you offer last-minute
shipping for Sugar Flowers?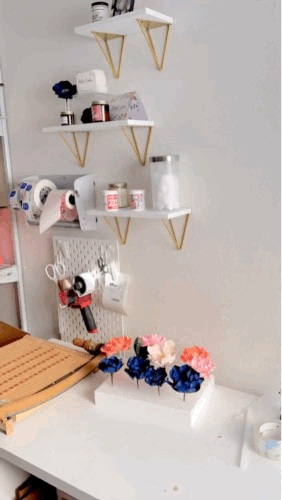 Yes!! Two words: overnight shipping.
Every order from The Shop is packaged up in my studio every weekday. For example: If you order on a Monday, I'll ship them on Tuesday. If you order on a Friday, I'll send them the following Monday.
So if you need an order for this weekend, you must order by Wednesday. They'll ship out on Thursday and arrive on Friday. The only guaranteed delivery date option I can offer is this one.
There are certain parts of the country where the "overnight" shipping takes two days. Unfortunately, this offer is only available in the US.
So if you're worried, you can always contact me first, and I'll verify the shipping times with your zip code.
Wrapping up…
Hopefully, this gives you a little more peace of mind about the shipping process, but always feel free to reach out if you have any questions.
And if you're wondering what to do after your order arrives, how about downloading my 6 Quick Tips for using & styling Sugar Flowers on your cake?